Hello friends! This week has been a blur which I'm starting to feel is the norm around here. This is what's going on in our world:
1. Yoga - I been trying to give my body a break from the wear and tear of running on the days that
Hal
says to cross-train, and yoga has been my exercise of choice lately. I actually took yoga as a class in college and
loved
it. It's been fun to get back into it, and it really helps with sore muscles from our half marathon training.
2. Pure Barre - Speaking of exercise, a Pure Barre finally opened close to my house! I did a few classes while I was on maternity leave, but their other locations were just so far from my house. Once I went back to work I just simply didn't have the time. I was thrilled when one opened only a few miles from my house (or 15 minute drive in Atlanta speak). I plan on joining after our half marathon once I'm not running all the time. This also gives me a few months to save up because it's not exactly cheap. (It would also be a great b'day gift..hint hint!)
3. Baby you a song, you make me want to roll my windows down and CRUISE - Which is exactly what my baby is doing...E is Cruising! I'm telling y'all, the second child does everything so much earlier than the first and it's freaking this mama out! Eleanor is cruising all over the place and grins from ear to ear the entire time. (Oh, and that song is in my running mix and just I can't help but sing along when it comes on.)
I don't have a picture of her cruising yet, so I figured I'd share my fave pic of the week.
4. NYFW - I love following New York Fashion week, and I'm kind of obsessed with this picture. Anna Wintour simply fascinates me. If you have ever been interested in her or Vogue, you should watch the documentary The September Issue. It almost made me want to quit my job and become her intern. A job that I would last in for approximately 25 minutes.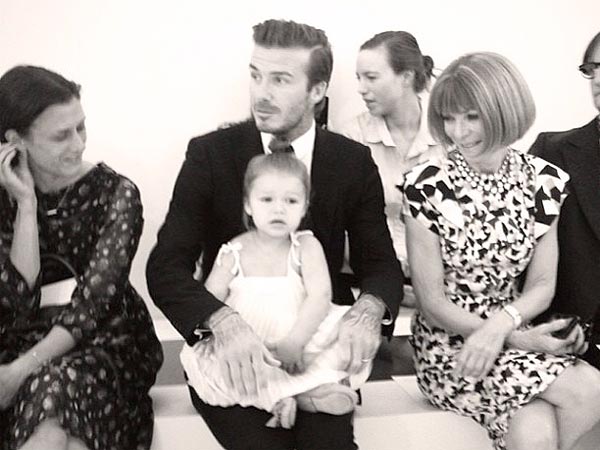 5. Double Date - Stefan and I are headed out on a much overdue double date with some of our closest friends. I love them and we don't get to see nearly enough of them. I can't wait for a fun night out!
Plus they just got back from an amazing trip and I can't wait to hear about it!